Grenzwandel – vom achtsamen Umgang mit sich und anderen
2-Tages Workshop mit Susanne Breh, Silke Breker und Blanca Hofmann (EponaQuest-Instruktoren in Ausbildung)
Supervision erfolgt durch Carol Roush (Linda Kohanov Kernteam USA)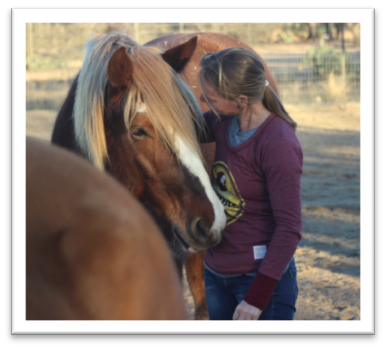 In diesem Zwei-Tages-Workshop finden wir heraus, wie wir unsere eigenen Grenzen und die von anderen wahrnehmen, welchen Raum wir benötigen, um uns in einer Situation wohlzufühlen. Wir werden damit experimentieren, unsere eigenen Grenzen zu erkennen, klar und der Situation angepasst zu setzen und auch unseren Raum zu halten, gleichzeitig aber auch die Grenzen anderer achtsam wahrzunehmen und zu respektieren. So dürfen wir erfahren, wie es sich anfühlt, wenn die eigenen Grenzen und der eigene Raum geachtet werden. Pferde sind Herdentiere, sie gehen ganz natürlich und fließend mit ihren Grenzen um. Sie können uns unser Verhalten spiegeln und helfen uns damit, mehr über uns zu entdecken.
Angeboten wird der Workshop von uns, Susanne Breh, Silke Breker und Blanca Hofmann, wir sind EponaQuest-Instruktoren in Ausbildung. Supervision erfolgt durch Carol Roush (EponaQuest Advanced Instructor und EponaQuest Senior Faculty) und Christiane Löttgen (EponaQuest Advanced Instructor).
Der Workshop ist für alle geeignet, die mehr über ihren Umgang mit sich und anderen erfahren oder verändern möchten. Pferdeerfahrung ist nicht erforderlich; alle Übungen finden am Boden statt.
Die Kosten belaufen sich pro Teilnehmer auf 200 €, eingeschlossen sind diverse Seminarunterlagen, Mittagessen, Snacks und Getränke.
Anmeldungen bitte bis zum 15. August 2015 an Susanne Breh, susannebreh@gmx.de oder 0179-5345683
Ort: Auf dem Hof Pferdeweisheitvin 59757 Arnsberg-Herdringen, Ostentor 23
Uhrzeiten: von 09:00 bis 17:00 Uhr
In this 2 Day Workshop we will get aware of our own boundaries, the boundaries of others and how much space we need around us to feel comfortable in a situation. We will experiment to recognize our own boundaries, set them clearly and with the right amount of energy needed, and also keep the space necessary to feel comfortable. Yet at the same time to be in awareness of the boundaries of others and respect those accordingly. This way we can experience how it feels when our boundaries and personal space is respected. Horses live in herds and deal with their boundaries fluently and naturally. They will help us experiment and reach awareness of our personal way to deal with boundaries.
We, Susanne Breh, Silke Breker and Blanca Hofmann, are Eponaquest Instructors in apprenticeship offer this workshop, supervised by Carol Roush (Eponaquest Advanced Instructor and Eponaquest Senior Faculty) and Christiane Löttgen (Eponaquest Advanced Instrutor).
The workshop invites anyone who likes to learn more about the way they interact with themselves or just would like to try some new way. Horse experience is not necessary, no riding exercises.are part of this workshop.
We are charging 200 €, including material, lunch, snacks and drinks. Please subscribe until
August 15, 2015 at Susanne Breh, susannebreh@gmx.de or 0179-5345683